Simply the Best LLLT System
Soli-Lite is a high-end photobiomodulation system using a new generation of monochromatic LEDs to offer enhanced power and more steadiness of the wavelength. The reaction of the tissue to the exposure will highly be accelerated due to the increase of the intensity.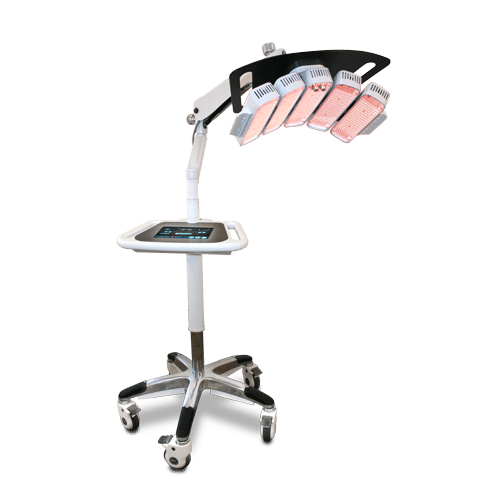 Established in 1965, Silhouet-Tone is considered a leader in medical esthetics science. Manufacturer of medical esthetic equipment and furniture, Silhouet-Tone keeps innovating and brings to the market state-of-the-art devices. Oriented toward excellence, with an eye on safety, all its components meet the highest standards in the industry, and are certified by the trusted international technical consultancy organization and approved by health local authorities. Operating across 53 countries, Silhouet-Tone's headquarters are in Canada with subsidiaries in the United States and Europe.
S.T MEDIC is the medical line of Silhouet-Tone's products, specialized in rejuvenation and toning. It also includes a range of devices providing innovative treatments for skin imperfections and hair removal.
CONDITIONS
Acne
Wrinkles
Age spots
Damaged skin
Muscle injury
Joint pain
Arthritis
Muscle stiffness
Scars
Testimonials
Beyond our expectations!
We have the Soli-Lite system at Lilydermis Medical Aesthetics Clinic for several months. It's actually beyond our expectations. What is important for us is that it works really well specially in combination with peeling procedures like chemical peeling and microdermabrasion Vortex Peel, helps to repair and restore the skin texture faster. With the specific wavelength lights, it works for many conditions for all skin types. The red light is incredibly strong and the result is noticeable just after the first session. The procedure is so comfortable and relaxing for the clients. We can't say how satisfied we are having the Soli-Lite from Silhouet-Tone.
Thanks Silhouet-Tone.
Dr. Farrokh Farrahi & Dr. Sara Vaziri
LilyDermis, Medical Aesthetics Clinic
Frequently Asked Questions
HIGH-END
PHOTOBIOMODULATION SYSTEM 
with
| | | |
| --- | --- | --- |
| | by | |